Club Merchandise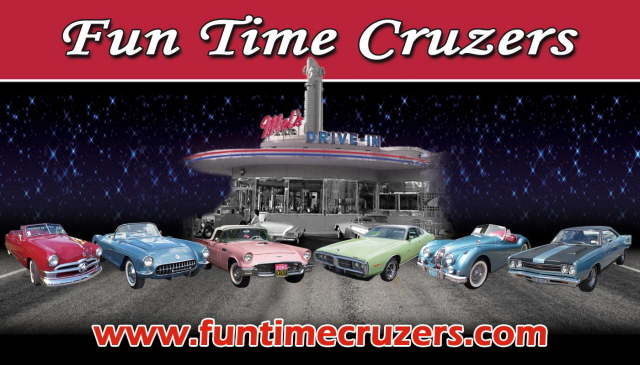 FTC Business Cards and magnetic dash plaques (when available) are yours for free when you come to the Monday Night Cruize, pick up some cards to give to friends and family so they can check out our web site, Club activities & cruzer photos.

UPDATED ...September 13, 2016
*********************************************************

FTC Cruzer Window Stickers can be purchased by non-memebrs for a $1.00 donation to help support our Club. Club Members get window stickers, pens & stickers for FREE. Get your cool sticker today! .....

*********************************************************

Reproduction vintage oil pump signs can now be purchased. These representations are exact duplicates of the 12 inch porcelan metal signs that were on gas pumps around the country at gas companies that are now mostly non-existant today. We have 75 different company signs and 20 of them also have company histories on the reverse side, and you can see the list of all 75 at our Monday cruise-in. They are made of light plastic foam board and are great for hanging in your garage or man cave. They are $8.00 each or 2 for $15.00...or 4 for $25.00 We will have examples at our weekly cruise-in. See Ken at our registration dcesk or call 586-260-3459 to order them. When we have 24 pre-orders, we will have them manufactured. You can pick them up & pay for them at our Lakeside Monday Cruise-in in Sterling Heights. SALES FROM THESE SIGNS GO INTO OUR CLUB FUND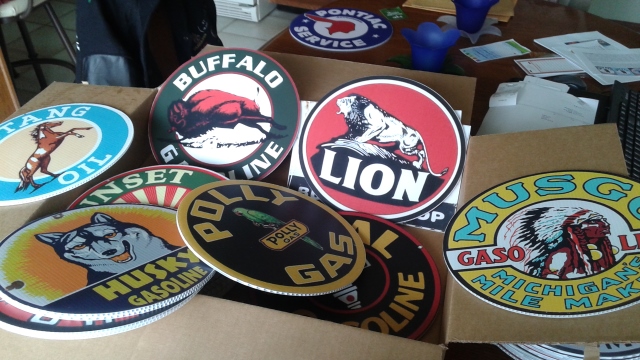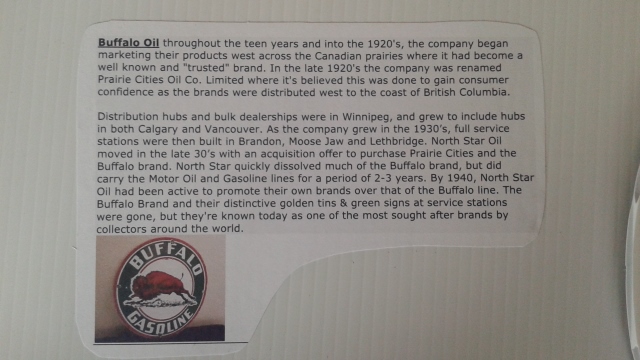 *********************************************************
NEW FTC T-Shirts & Sweat Shirts, are now available for ordering. They can be pre-ordered and or pre-paid at our weekly cruize-in by completing our order form at our Monday cruis-in. You can also send us your shirt order/color code, sizes, and payment to our club address..."Fun Time Cruzers" 48624 Lindon Court, Shelby Twp., MI 48317.
SHIRTS ARE ORDERED WHEN WE HAVE SIX (6) SHIRTS ON OUR LIST.
NEW T-shirts will be $20.00 (Polo shirts not yet available). T-Shirts can have the design on the front or the reverse side. Polo shirts are still being reviewed. "Fun Time Cruzers" can be on the front left chest of Tee & sweat shirts (see example). Sweat shirts can be ordered for $25.00, with hoodies they are $30.00 ..XXL for T's are an extra $1.00, & for sweats an extra $2.00. **You can have the large design on either front or back of the shirt, with or without the truck on the front left chest area. Shirts can be in 4 colors, deep blue, royal red, white or light ash grey. Ask to see them when you come to our Monday Night Cruize. You can order and pay for them at our Monday cruise-in.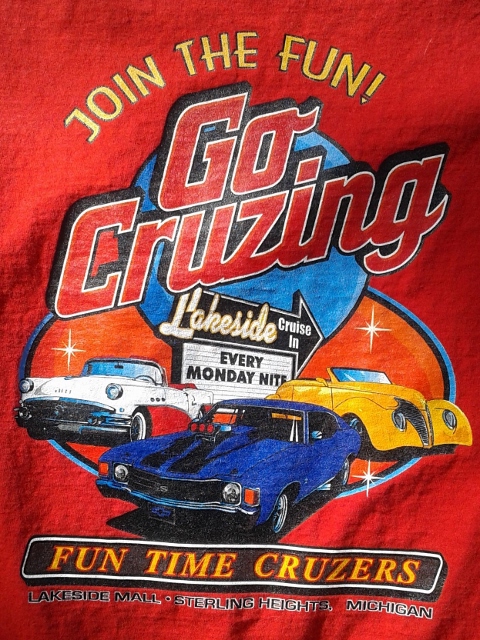 Embroidered Baseball Caps are just $18 TO $20.00... and the car color can be changed as you wish. Caps with extra fancy pre-made embroidery on the bill & sides with a hot rod car are $20. All others that just have the "Fun Time Cruzers" lettering with just flames or lightning are $18. SEE NEW EXAMPLES BELOW.
Colors:..red & black, greyish/blue, all black, blue & black..... $18.00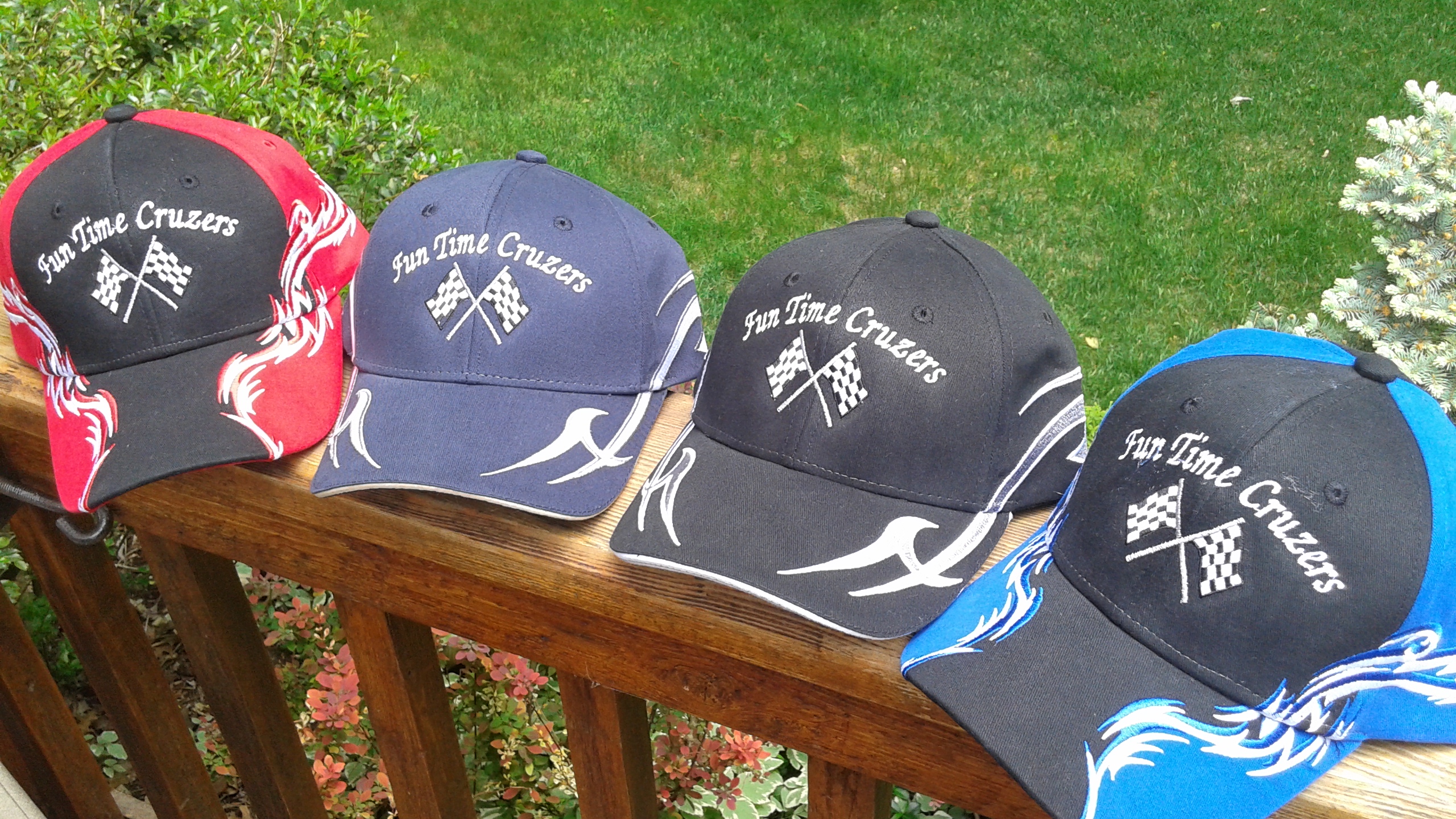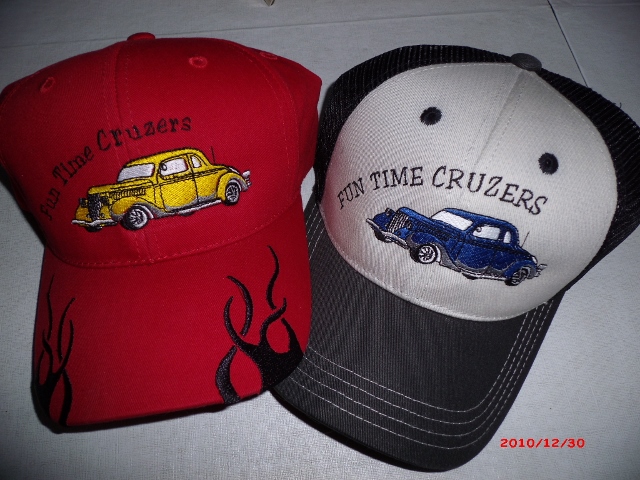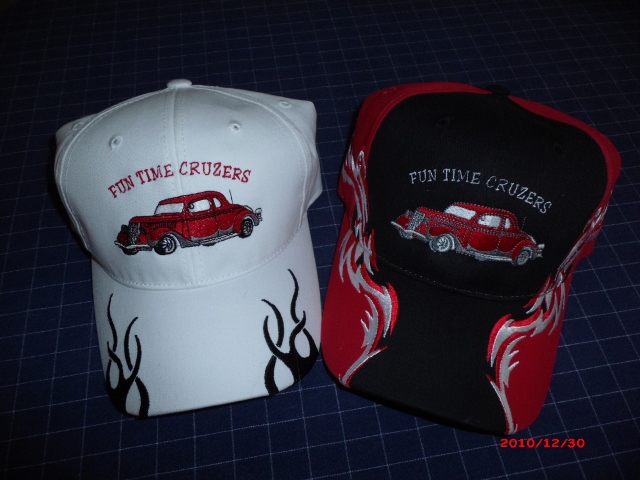 Any color/type of ball cap with any color of "embroidered" hot rod....
(just the car shown)....$20.00
*********************************************************

Magnetic Name Badges with our Club name & logo. If you like cool name tags or badges, check out our new magnetic badge which costs approx. $10.00 plus shipping. You order it yourself by contacting Badges & Buttons (BBC) & printing the form shown below. Place the first names for all the individuals you wish to order badges & fax (480-983-3506) or send the form with a check to BBC. You can also call them at 480-983-3499 & pay by credit card. You can also obtain this form at our Monday Nite Cruise-In. ...email them at ... abcbandb@bwmail.us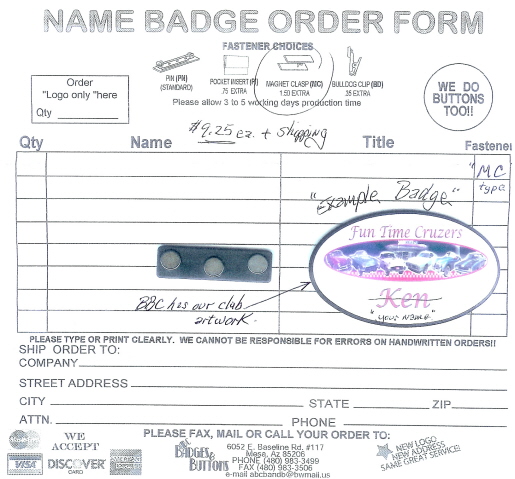 **********************************************************