Sponsor Prizes & Awards

MONDAY NITE CRUISE-IN -- EVENT SPONSORS & PRIZES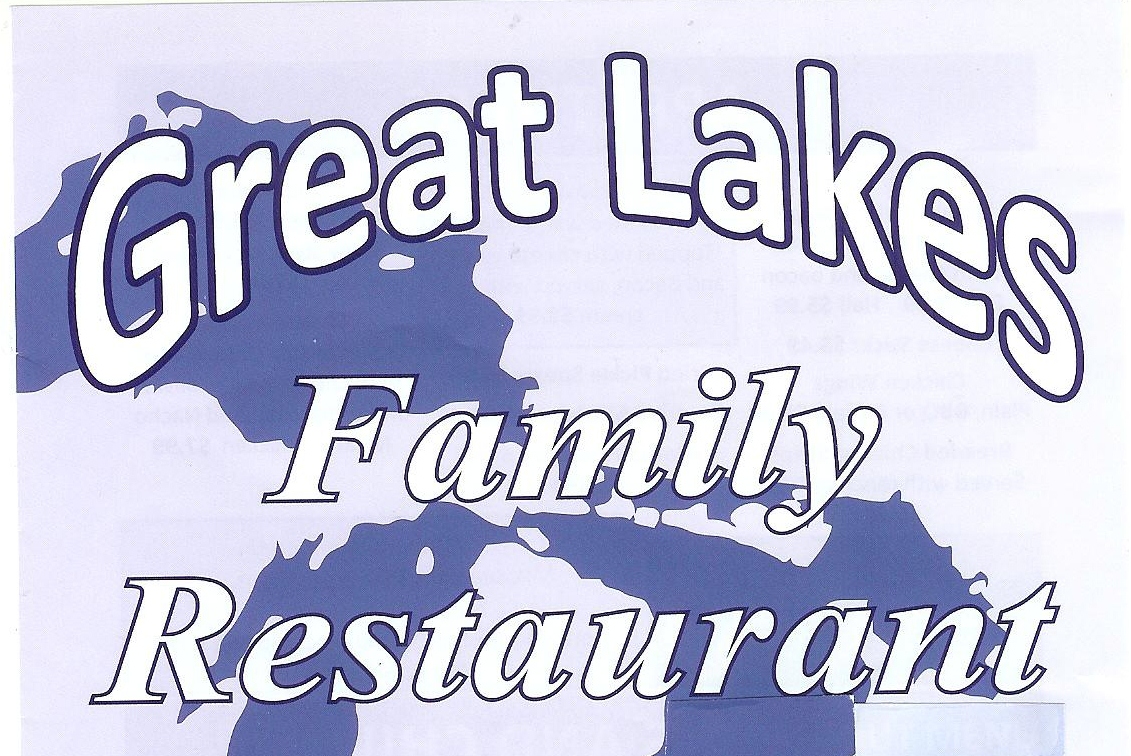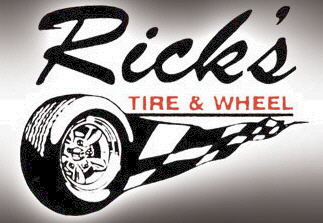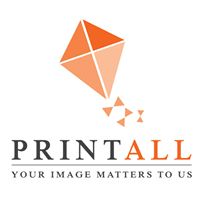 Anything that moves upholstery
CUSTOM INSURANCE AGENCY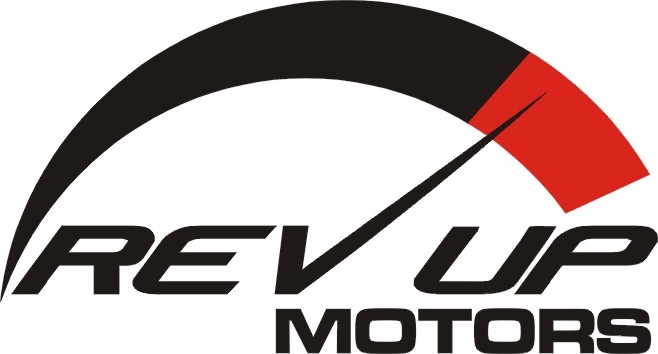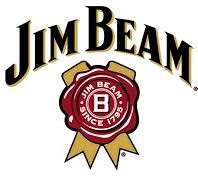 MONDAY CRUIZE NIGHT EVENT OVERVIEW
LAKESIDE CIRCLE, SOUTH SIDE OF LAKESIDE MALL, STERLING HEIGHTS, MI
Early May to mid September, 5:00PM to 8:30PM
Our Monday Nite Cruize-In is held at 13810 Lakeside Circle on the south side of Lakeside Mall (M-59 & Schoenherr) across the street from Sears & next door to Steak n' Shake at the Dominic's Fine Jewelry building. .....586-286-9944.
The Fun Time Cruzers (FTC) provide 25 crusier door prizes every week to our visiting classic car owners. Just stop by our registration desk where you see our club banners to register your cruiser, or to check your attendance to get your FREE prize ticket. Prize numbers are posted and announced every 30 minutes during our cruise night until 7:30pm. In addition to these cool prizes, we also award 14 or more 9x12 customized sponsor plaques to our lucky cruisers of the day. There is NO judging, just favorite car award choices that are randomly made each week by our club members, officers, & directors. Our sponsors, when present, can also choose their own weekly winners. A vehicle can only win 1 award during a 60 day period, and most classic cars are eligible for many different awards. See our individual sponsor awards by paging down.
One of our primary cruise sponsors is Dominic's Fine Jewelry who has graciously provided 60 parking spaces on his property for our cruisers. Dominic's can design a one of a kind, custom made necklaces or bracelets with your own car design on them in sterling silver for just $199, or a classic car ring for you in silver, gold or platinum for as little as $149. Please take advantage of this great offer...see their examples in the "Special Offers" page or at our weekly cruise-in. Other specials are periodically emailed to our cruzers.
OPEN SPONSORSHIP PLAQUE...would you like to sponsor one of our awards? "BEST CHROME & WHEELS", or "BEST MUSTANG" (see example 9X12 award plaques for each spponsor). We can help you with your personal design. We place your company information here plus your logo is placed in 3 locations on our web site. Call ...586-260-3459 if you want to know more....
Battery Giant, (on Hall Road only) offers a 5% discount on all types of batteries and related items when you tell their store staff you are a "Cruzer" from Lakeside (before they ring up your order). They are located on 20761 Hall Road (M-59) at Heydenreich in Macomb Twp.... They sponsor a "BEST OF SHOW" plaque and provide batteries as door prizes. Call ....586-783-6000 or go to http://www.batterygiant.com .
Galaxy Collision, (formerly Big C's Collision), provides a 9X12 award plaque every week for the "BEST PAINT". This body & paint shop can perform miracles for your car body on or off restoration, collision repair & paint needs. Located at a new location on 253 N Gratiot. Call Amanda at..586-216-4711 ...drop by to see them to get a quote. If you get your car placed on their plaque, you get a free one for yourself.
Custom Insurance Agency, is our new sponsor that provides all kinds of insurance coverage for our cruisers, and sponsors the "Best Custom Cruzer" award.. Located at 6300 22 Mile Road in Shelby Township, MI, Contact Dave Giancola them by calling ...800-707-9520 or 586-935-6110 or email ..dgiancola@custominsuranceagency.com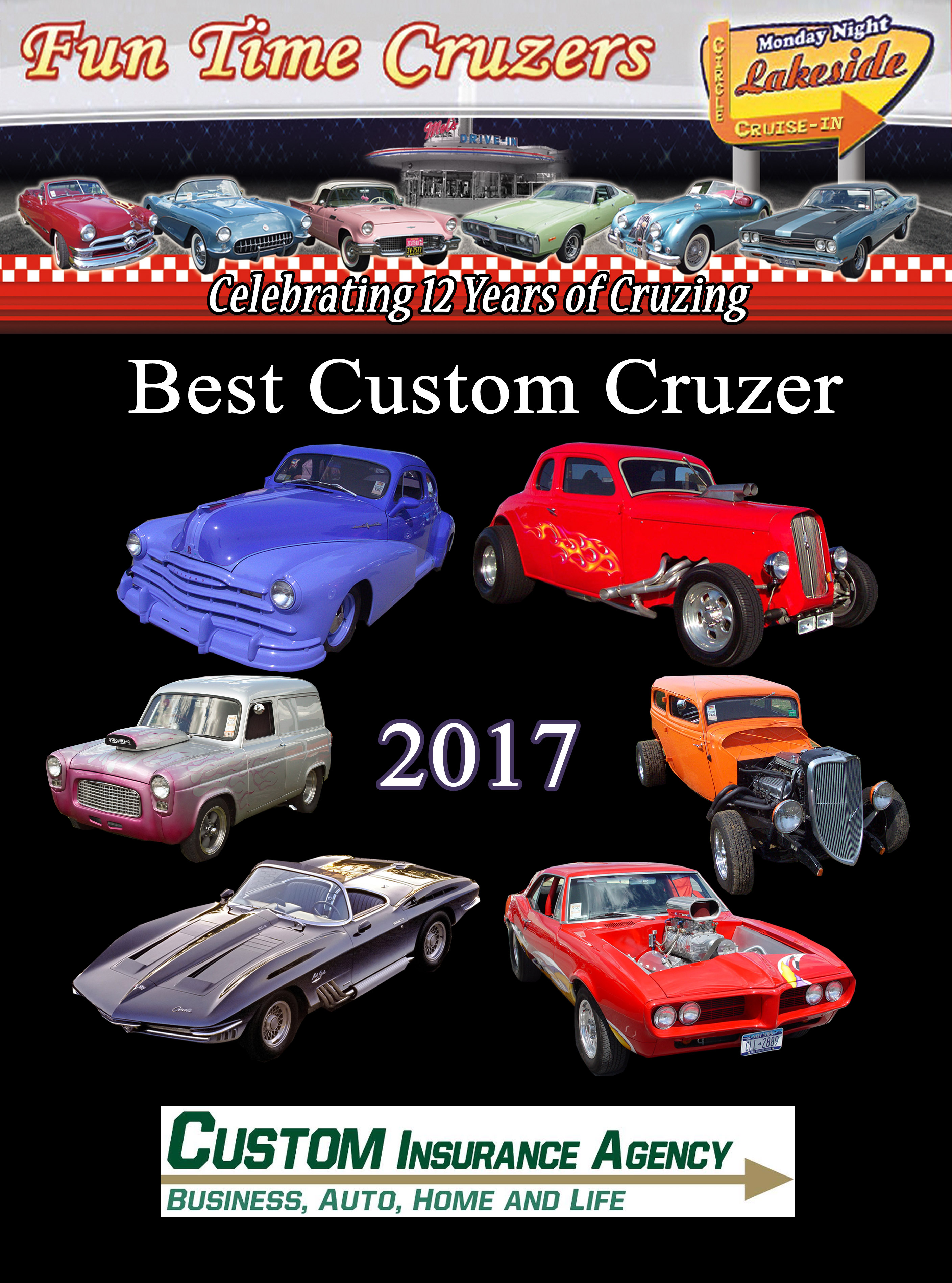 Chicken Delite, ..Chicken Delite is another new sponsor for 2013. Located on the SW corner of M-59/Hall Rd and Hayes in Sterling Heights, offers great tasting chicken, sea food and ribs. They sponsor the "Most Delightful Cruiser" 9X12 award. Call ...586-247-1060 to order your next dinner.
Christian Financial Credit Union, ....sponsors the "CRUISERS CHOICE AWARD", which is selected every Monday night by all the cruisers who attend our weekly cruise-in. Christian Financial Credit Union is a full service financial institution open to all who live and work in Macomb, Oakland, Wayne,& St. Clair Counties. They have 7 branches throughout Wayne and Macomb Counties including one on Lakeside Circle next to Ethan Allen. Visit christianfinancialcu.org or call ...586-772-6330 for information on auto loans for new, used, or classic cars.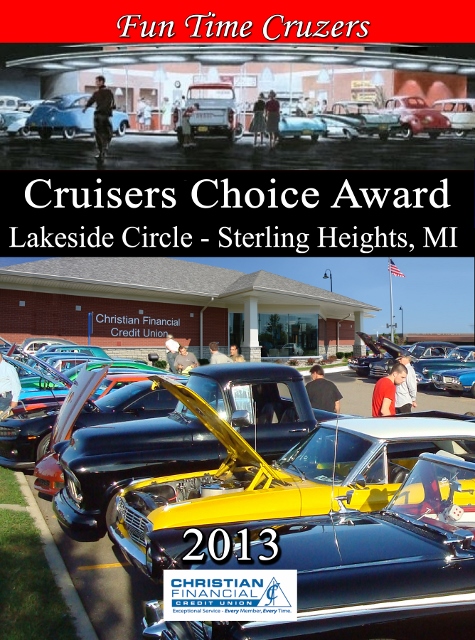 CREATIVE CLASSICS,.... provides customized classic car interiors and upholstery for owners of all things cool on wheels. Any color, any kind of fabric can be yours. Just call John Pinkerton at 586-489-1820 to arrange your next upgrade. Located at 7525 22 Mile Road west off Van Dyke just past the post office in Shelby Twp. John provides the new "BEST INTERIOR" 9x12 award to our cruisers every week. ... cjpinkerton@sbcglobal.net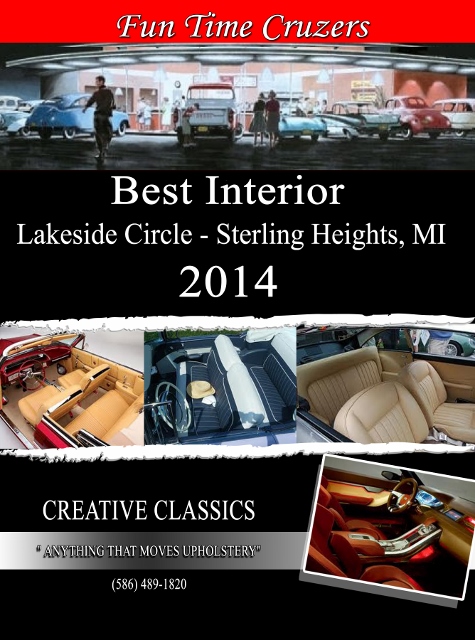 Ed Rinke Chevy - GMC - Buick provides an award for "Best GM Cruiser". and their plaque reflects all kinds of models from many eras of GM vehicles. ... They are locationed in Centerline. ...26125 Van Dyke south of 696, ...Sales 866-461-1170, Service..877-518-1485.. At Ed Rinke Chevrolet Buick GMC, our entire team works together to provide you with the ultimate Buick, Chevrolet, GMC shopping experience. We are here to exceed your expectations, deliver the best service possible, and make car shopping fun again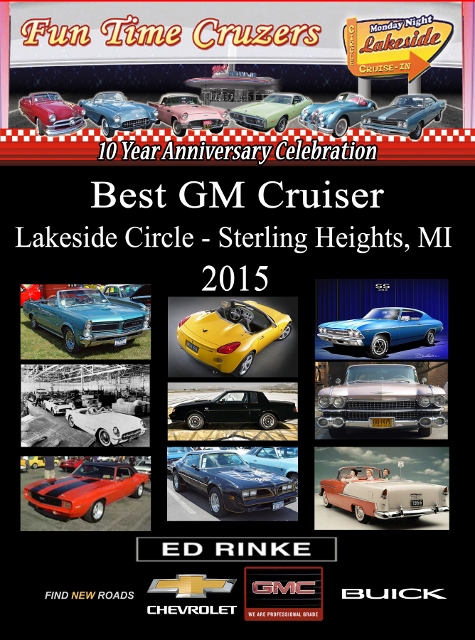 EMS Classic Car Care Inc., provides a 9X12 award plaque every week for the "BEST ORIGINAL/RESTORED CRUISER". This exceptional auto repair team is located at 11530 Timken, 1 block south of Stephens (91/2 Mi) & west of Hoover Rd. in Warren Please call Ed or Emica Syrocki at ....586-754-3728. They can even pick up your car in an enclosed trailer. As an additional service, they have a controlled environment storage facility for cars, boats, & RVs for just $75.00 per month.
ST
Great Lakes Family Restaurant, next door to Dominics is sponsoring a "BEST OF SHOW" plaque, provides food discount coupons for us every week. Tell your waitress you are a Fun Time Cruzer and get 10% off your food order mid-May to September, & 15% during the winter months. **Please do NOT park in front of Rams Horn & Dominic's ...these 11 spaces are reserved for the general public. SEE THE PARKING MAP. ... 586-532-6478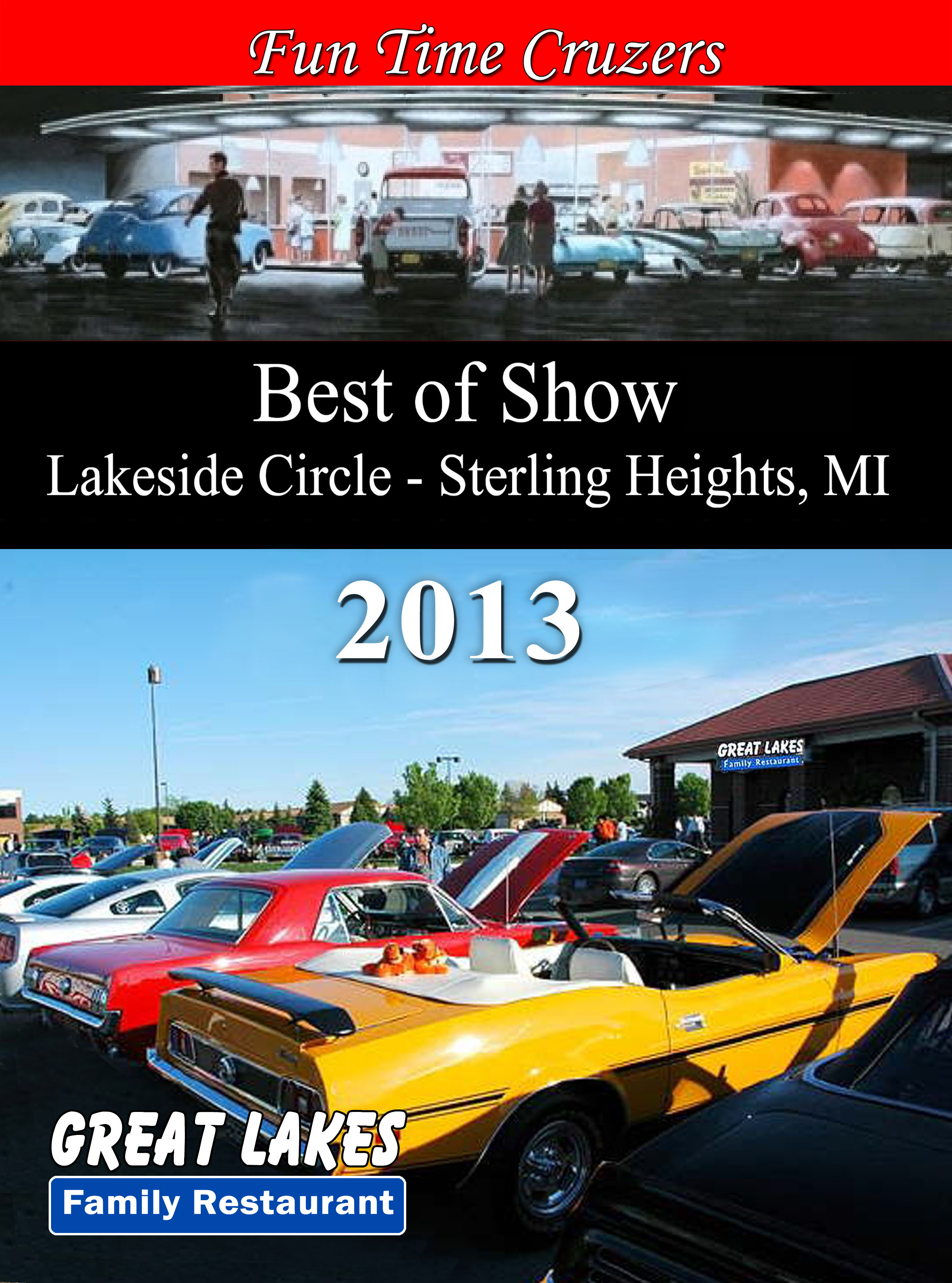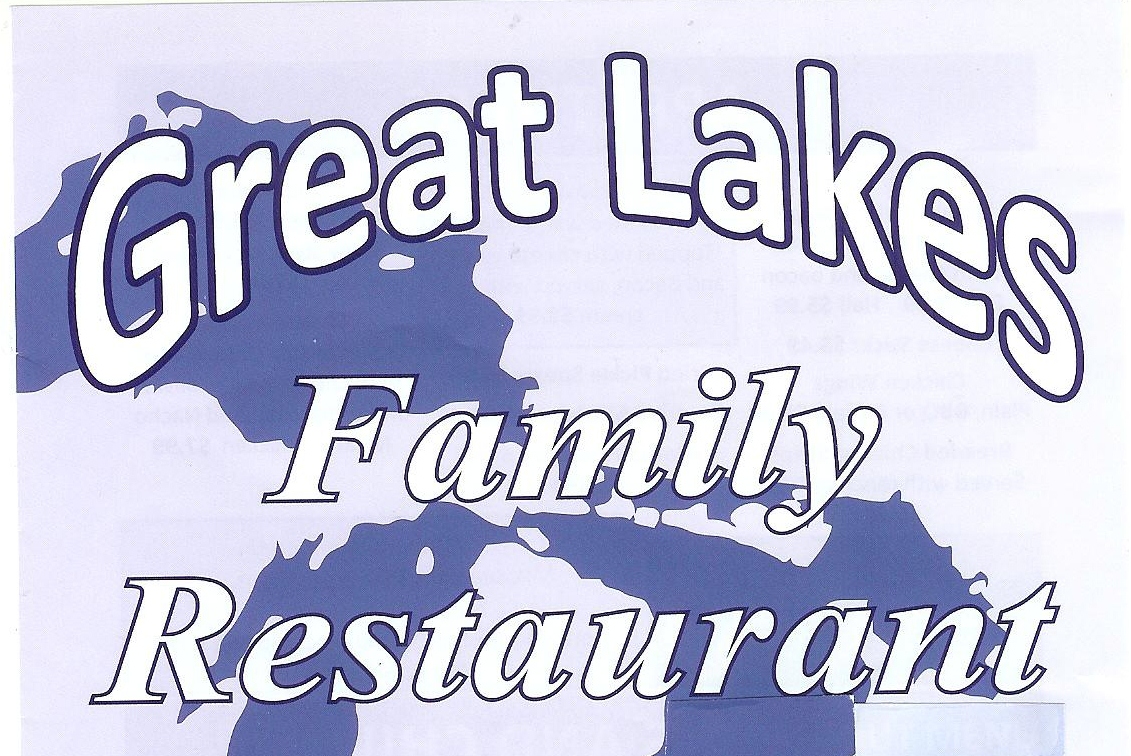 Heads Up Racing LLC.... became a new award sponsor in July 2017 with the "Sweestest Ride " plaque which is shown below. They can perform all kinds of vehicle repairs and are located on 189 Grand Avenue in Mt. Clemens, MI. Done fast --Done Right... is their motto.Call them at 586-461-0099. .... headsupracingllc.com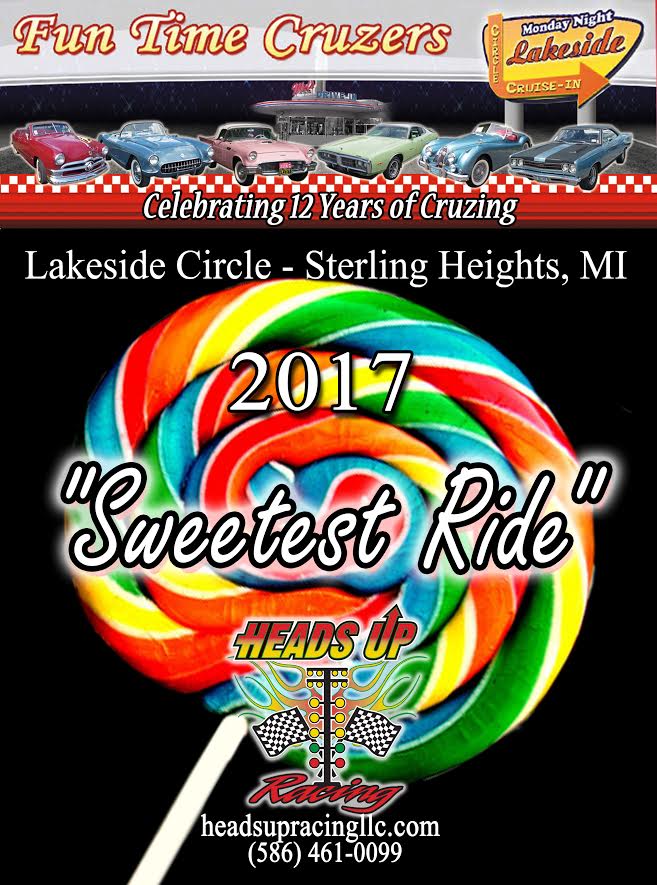 Jim & Trudy Sawyer.... have graciously sponsored the "BEST FORD" 9x12 award plaque and their new design can be viewed below.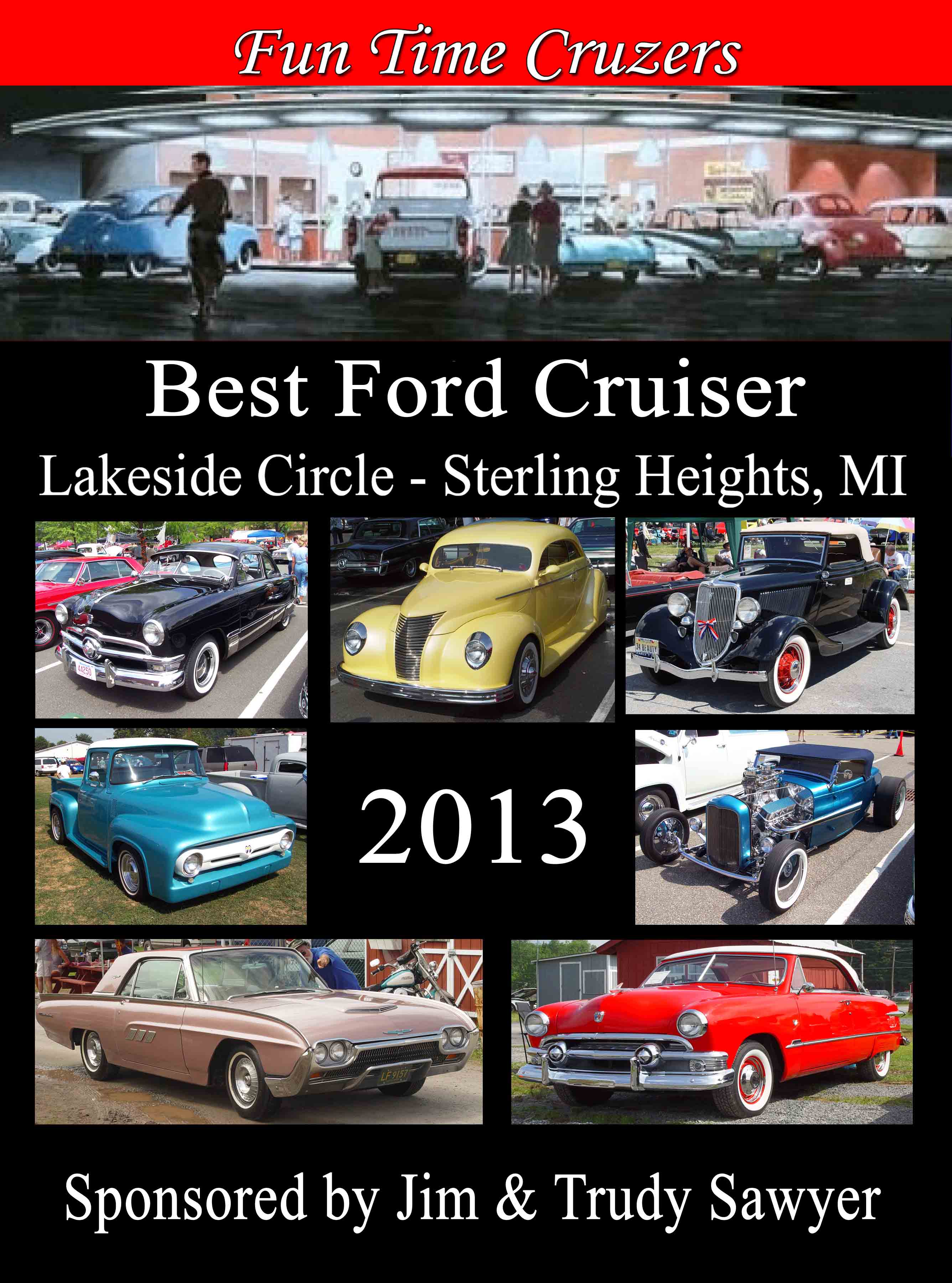 Jim Beam... provides the new "Best Corvette" 9x12 award plaque. Contact Dave Kelly at 586-205-3417 or email dave.kelly@beamsuntory.com for more details and information about their services.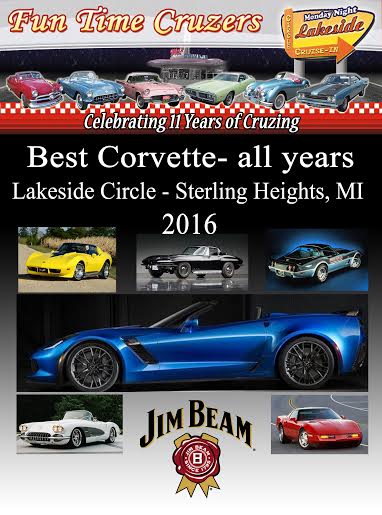 Kohl's provides 75+ event parking spaces on the east side area of Rams Horn, and another parking area just south of Steak & Shake and Dominic's building. **See the Parking Map Page** .....586-247-7880.
Parkway Chrysler-Dodge-Jeep-RAM ..this excellent car dealership is located on Hall Road next to Barrymores.They provide the "BEST MOPAR" 9x12 plaque weekly to our cruisers. Please stop by to see their staff and test drive new vehicles of all kinds. Call them at ...586-465-7210.
Printall ...located on 69345 N. Main Street in Richmond, MI, is a new sponsor in 2017. They sponsor the "Best Orphan Cruzer" and help design & print all our award plaques, business cards, club car stickers, & banners. They also provide wedding invitations, print copies, vinyl graphics, signs, decals, promotional items & much more.... Contact them at 586-430-4383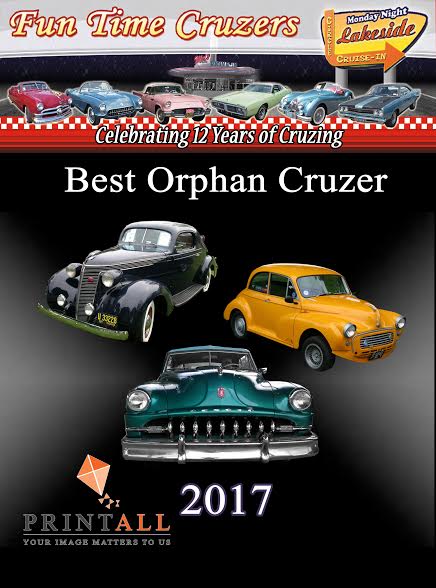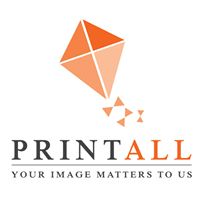 Rev Up Motors, located at 50111 Van Dyke (newer address) between 22 & 23 Mile Road in Shelby Township. Owner Steve Petro sells classic cars all over the USA and in Europe. He always has a dozen beauties in his building that anyone can view. Rev Up also provides a weekly 9x12 plaque award ..BEST LATE MODEL CRUISER (1975+) every week for our Monday cruise-ins. Check out this cool shop. Call ....248-321-3750 or visit www.revupmotors.com .
Rick's Tire & Wheel, another great sponsor of ours provides a $25.00 gift certificate every week, plus cruiser discounts off all auto services. Contact Rick or Tammy at ....586-739-3400. Rick's is located at their new location at 49560 Van Dyke between 22 & 23 Mile Road in Shelby Twp.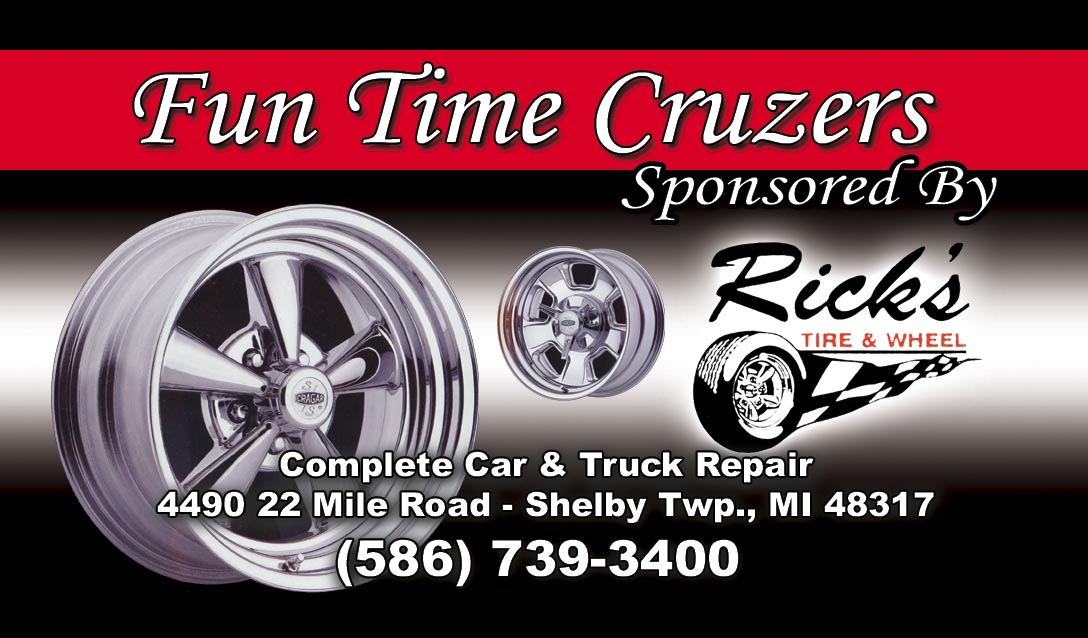 Veterans Special Award.....is now the award for "BEST ENGINE " in 2015...sponsored by two Fun Time cruzers members who wish to remain anonymous .....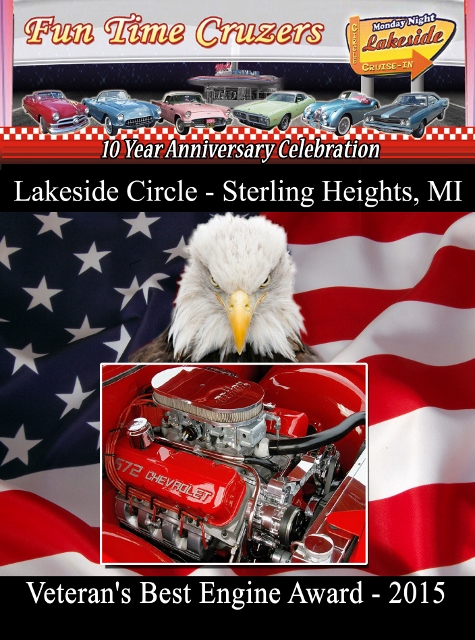 Wrecks N Restorations, specialize in custom body work & paint plus expert refinsihing of your car. All insurance is accepted, ALL car makes & models restored. They sponsor the "Outstanding Cruzer Award" award plaque at our weekly cruise-in. Contact Nick Mifsud at .. 1818 Star Batt Drive, Rochester Hills MI 48309, 248-852-5755,... www.wrecksnrestorations.com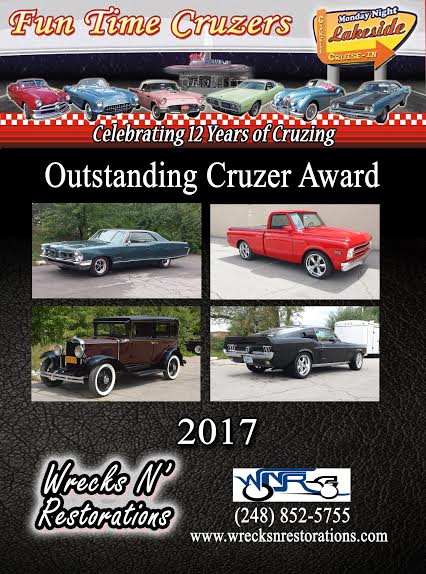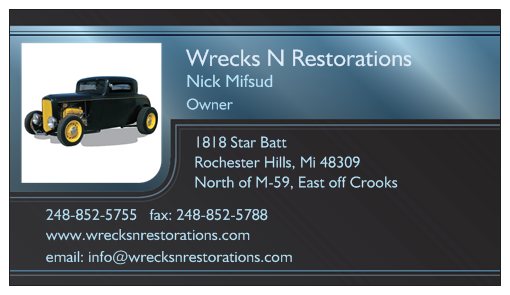 OTHER AWARDS CAN BE AVAILABLE FOR NEW SPONSORS.... EXAMPLES INCLUDE: