John R Glass...
in Madison Heights, just south of 11 Mile Road, provides professional auto glass repair and replacement. ....Call Mike at ...248-399-0878. See their card below. They installed the rear wind shield in Ken's 57 Chevy and did an excellent job. They also repair & replace glass for the Tri-Five car club.
Recommendations: Tri-Five Car Club, Ken Savage
Keller's Automotive...
in Shelby Township. Chuck Keller can perform excellent auto engine and transmission repair on your classic cruiser or newer car. His shop is located at 13048 23 Mile Road, just west of Schoenherr Road on the south side of 23. Chuck provided engine timing and choke repair for Ken's 57 Chevy and also built & installed Tony's 428 Cobra-Jet engine in his 69 Mustang Mach 1, and worked on John's 1971 Mercury Cougar. ....586-731-5378,
Recommendations:

Ken Savage, Tony Iafrate, John Rozell
Layback Lenny....
Air brush shop expert that does fabulous pin striping and colorful art work on cars. He is located on 21738 John R Road in Hazel Park, Mi, 48030......248-548-7205,

Recommendations

: Dan Dennis
Mario's Auto Upholstery... Detroit, Mario Martinez can perform fabulous custom interiors, convertible tops, seat cover restorations, headliners, carpets, & tunneau covers for your classic cruiser. Located in the Mexican Villiage area at 7443 Dix Ave., Call them at ...313-729-7737 and learn first hand about their very reasonable prices. Recommendations: Dan Dennis, Bert Bernardi
Meyer Automotive...

located at 7979 19 Mile Road in Sterling Hgts, offers all kinds of sutomotive repair services and engine rebuilding for ALL car makes, models and classics. Contact Kevin Meyer or a member of his team at ...586-323-9930. Chuck G. said they are very cruiser friendly.

Recommendations:

Chuck Gostomski.
Printall.....take M-53 North, then 32 Mile Road east to 69345 N. Main Street, (turn left on Main), in Richmond. Or you can take Gratiot north to 32 Mile Rd, then go west on Main. They do all of our club award plaques, business cards, window stickers, magnetic dash plaques, club banner, t-shirts, plus banners, party & wedding invitations plus much more... .Call Eric or Christina at 586-430-4383. Recommendations: Ken Savage, Mike McGowen.
Mr. Muffler,

at 37526 Van Dyke in Sterling Heights can provide brakes, mufflers, shocks, custom pipes and much more. They did some exhaust work on Tom C.'s Chevy II, with resonable prices, and excellent work. If it's going to take awhile to repair, or get the parts, they will provide a ride home, and pick you up if necessary. You can also add coupons for discounts found in the Money Pac Coupons book every month, for even a better price. They love to work on the classics, and know how finicky we are...586-264-3650. Recommendations: Tom Coucke
Parker Store - Fluid Systems Engineering... in Clinton Twp., provides all types and sizes of hoses for fuel and water requirements. Also have all the cool polished and blue/red connectors for your cruzer. 18855 14 Mile Road, east of Groespeck, ...586-790-8880. Recommendations: Ken Savage
Patmai Company... Frazer, Metal Polishing, trim moldings repaired & polished to a mirror like finish. All types of metals. Contact Bret Mattox ...586-294-0370, see their card below, patmail123@wowoway.com, 31425 Frazer Drive, . Provided a super service in repairing & polishing Chuck's stainless trim for his 56 Chevy. Recommendations: Chuck Hamann

Rad Mobile Detailing, are auto reconditioning experts who come to your home to put that show car shine on your cruzer, truck, SUV or your boat. Call Rob Shobe at the numbers shown on their card below...586-773-1884. Rob put the finishing touchs on several of our FTC members' cars for Autorama 2008. Recommendations: Tim Mueller, Dwayne Hrynyk.

Rick's Tire & Wheel, ..49560 Van Dyke, just north of 22 Mile Rd, provides many years of experience as an excellent provider of auto services of all kinds including tire and wheel solutions for your cruzers. Rick offers all cruzers a discount when you tell them you are a Fun Time Cruzer, and also gives us FREE $30 coupons coupons for our Monday night cruise-in. According to Ken, his prices are very reasonable. Contact Rick or Tammy at ...586-739-3400. Recommendations: Ken Savage .
Simbol Auto Glass,...provides complete auto glass services and window tinting. They are at 50919 design Lane (facing 23 Mile Road just east of M3 freeway. Contact Tony Kado or his team at ...586-731-4529, or email tkado@simbolautoglass.com. They gave Chuck G. excellent service and customer attention. Recommendations: Chuck Gostomski
Slim's Alignment & Hotrod Shop, they are not cheap but they do great work. East Ten Mile (corner of Gratiot 10 Mile) in Eastpointe, ...586-775-7765. See their info below, & contact Dave or Frank. Al had his Vette aligned plus 2 lower ball joints and a power steering valve assembly installed. Recommendations: Al Alfonzi.
SS Stripping, provides plastic media & aluminum oxide metal preparation of all kinds. Located at 35320 Mound Rd in Sterling Hgts., ...586-268-5799, See the info card below or visit their web site... www.ssstripping.com. Chris Sniesak can place or restore stripping on your classic cruzer or provide other residential or industrial applications. Recommendations: Dwayne Hrynyk.
St. Clair Engine LLC, located on 28069 Armada Road in Richmond, MI, they provide a complete automotive machine shop for cruisers that includes engine dyno services, reconditioning, porting, & polishing heads, block boring & honing, connecting rod reconditioning, & the sale of engine parts. Call ...586-784-9391 or www.stclairengine@aol.com. See business card below. Recommendations: ..several FTC members

Superior Radiator, provides custom racing radiators, repair for all types and sizes of raditors. Ken had his heater core repaired for just $40.00 & highly recommends this company. Ask for Ben or Charlie at ...586-463-8722. They are located off Cass east of Gratiot in Mt. Clemens. Turn south off Cass onto Grand Avenue (125). Call for prices. Recommendations: Ken Savage.
Tom - "The Headliner Guy" ... provides headliner repair & installation plus custom interiors, carpeting & seat restorations for your new or classic car. Tom C. had Tom replace his headliner, and re-foamed & recovered his rear seat in his 66 Chevy II SS in just a few days. Tom C. stated that Tom "the headliner guy" makes "house" calls, offers excellent workmanship, and his service is very reasonable. You can also see his ad in Cruis'News. Contact Tom at ...586-786-0839, or ...586-337-3032. Recommendations: Tom Coucke
Tri-5 Classics of Michigan, located just west of Great Lakes Crossing in Clarkston, they sell Chevy parts for less than Cars, Inc., and other classic Chevy parts suppliers. Ken S. purchased replacement window chrome items from them & discovered they go direct to the manufacturer that other parts suppliers use, but without making you pay for the large mark up. They also provide restoration services. Contact their Ken Siegfried at ...248-291-8117. Recommendations: Ken Savage
Wall Art Marketplace, graphic design artist, Andrew Sliwinski, provides wonderful automotive wall art and show boards for your cool cruisers. Located in South Lyon, MI, Andrew can design and ship your auto art anywhere in the country. You can see an example of his work at our FTC Monday nite cruise-in in Sterling Heights, MI. His show boards come in 3 sizes & price ranges:..16x20 size = $80, 18x24 = $95, & 24x36 = $120. All are on foam or gator board & other options include laminating and framing. Contact him at 248-761-6214, or check out his email address & web site links.... https:/www.etsy.com/shop/WallArtMarketplace, http:/andrew-silwinski.artistwebsites.com/, or http://stores.ebay.com/Wall-Art-Marketplace. Recommendations: Ken Savage
Wrecks N Restorations, specialize in custom body work & paint plus expert refinsihing of your car. All insurance is accepted, ALL car makes & models restored. Contact Nick Mifsud at .. 1818 Star Batt Drive, Rochester Hills MI 48309, 248-852-5755,... www.wrecksnrestorations.com ... Recommendations.... several FTC members.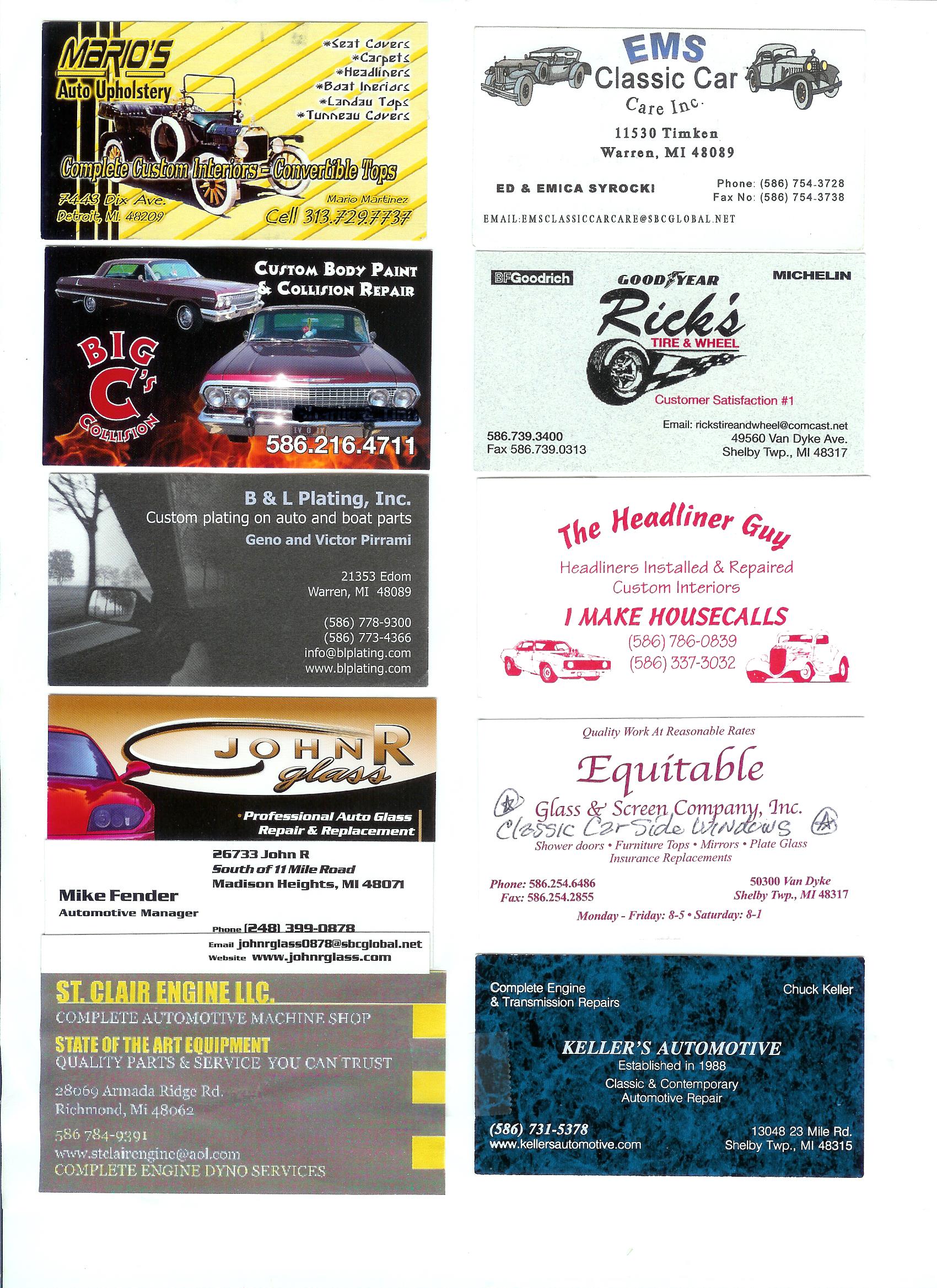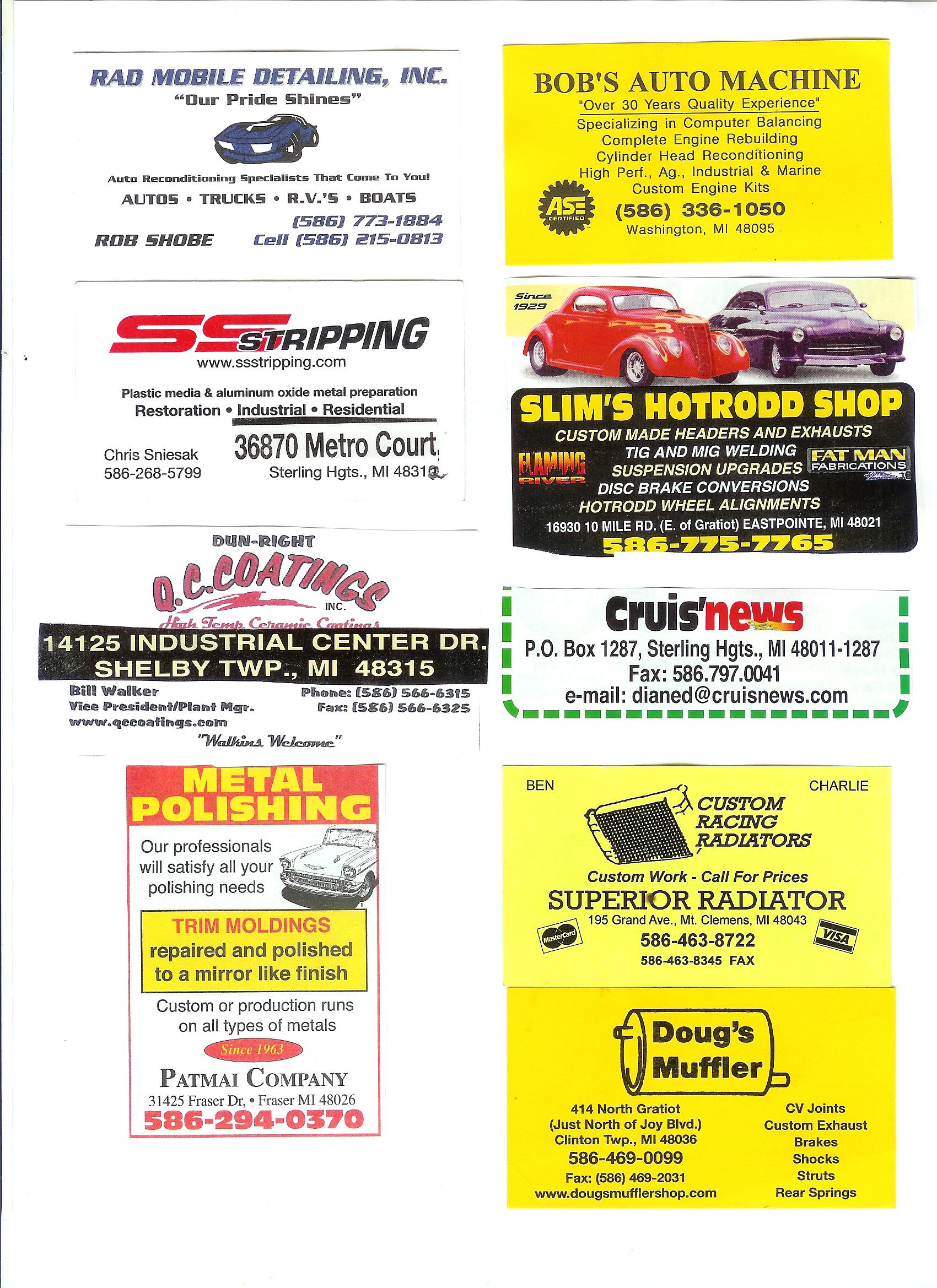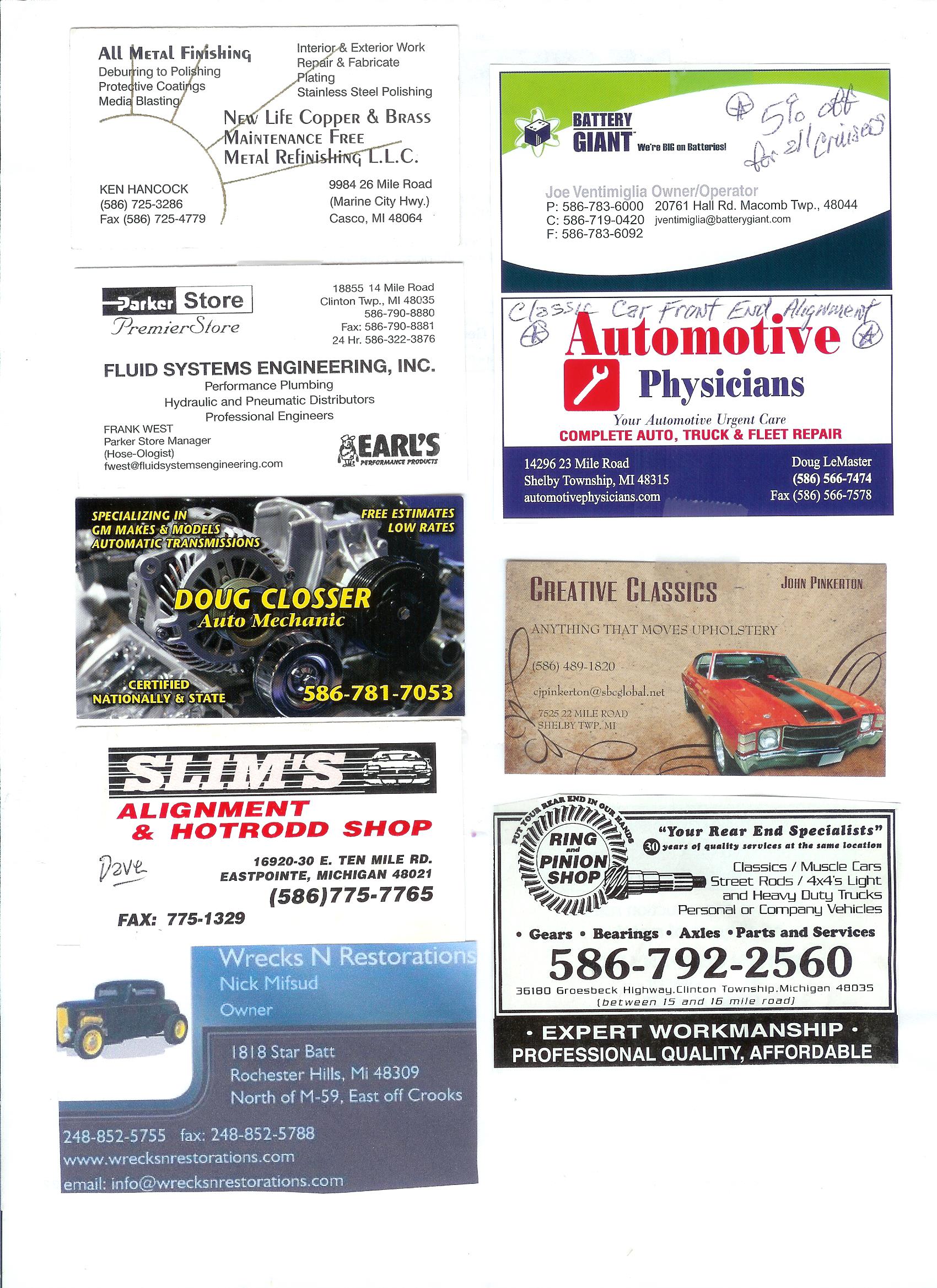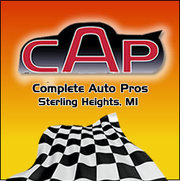 35927 Mound Rd, Sterling Heights, MI 48310

586-978-9700 .. completeautopros.com