Photo Gallery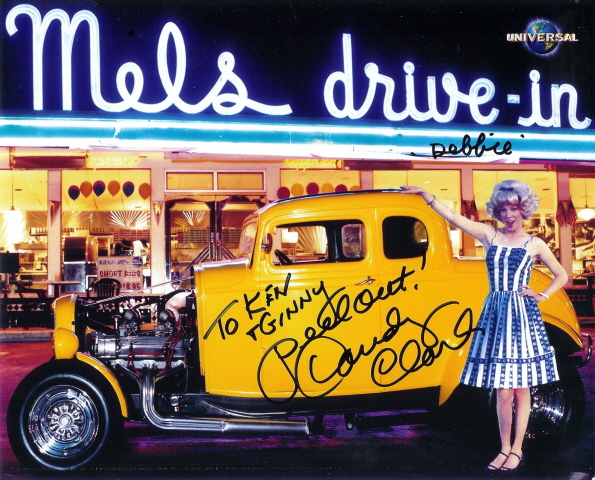 ENJOY OUR G3 PHOTO GALLERY...30,000 photos

Check out Woodward Avenue history by paging down to view this interesting story and photos.
MONDAY NITE WEEKLY PHOTO SHOOTS ....south side of Lakeside Mall in Sterling Hgts. MI
Every week we place your car photos from our weekly Monday nite cruise-in photo shoots into our Roxio PhotoShows.. And we send out these musical slide shows to more than 500 cruisers who have given us their email address. If you wish to be added to our email list to receive these fun shows, upcoming local car shows & events plus other interesting auto related news, just send us a note to ksavage57@gmail.com. Your EM is NOT added to any mailing lists, or shared with other organizations, cruisers or FTC members & sponsors.
Click this link to see more than 175 cool Fun Time Cruzers Roxio PhotoShows with rock n'roll music ..... www.photoshow.com/members/ksavage/
Our G3 Photo Gallery is no longer supported so we have stopped adding weekly cruise-in photos to it as of April 2016. However, you can still view more than 30,000 photos from the events of the past by clicking on the Photo Gallery link below. All newer cruise-in classic car photos are available at the Roxio PhotoShow link shown above in blue.
After going to our "Photo Gallery" link below, you will see all our past cruise-ins (prior to April 2016) are placed into separate "Albums" by year or event date, i.e.: 2010 Weekly Cruise-Ins & Car Shows (contains up to 20 sub-albums), May 22 Cruise-In, July 4 Holiday Cruise-In, or by name: St. Isidore Strawberry Festival, etc. There are multiple "Albums" shown in the main G3 Photo Gallery page. Just click on the Album photo and you will have access to that Album's cruiser photos or sub albums. Once an Album is open, click the individual photo to open, & use the << >> arrows or page numbers on the top of the open album to go to different pages with additional photos.
To enlarge these pictures, click on the photo. To save a photo, just click your right mouse button & "save to disk". Use your "BACK arrow..<--" each time you wish to view other cars or albums or click the "G3 Photo Gallery" or "Album" name listed at the top left of the page. Navigate anywhere in G3 by clicking the "G3 Photo Gallery" line to go to the Main Gallery page, or click the the Album Name you are viewing to return to the begining of an Album. .....Click on the "FTC logo" at the top left of each page to return to our FTC HOME Page. These instructions are also repeated in the gallery.

***All photos remain the property of FTC & under no circumstances is anyone allowed to "sell" them for profit. Please do not abuse your free access to these photos. Any discovered violations may force us to curtail our open "save " photo options to everyone. Inappropriate photos or abusive comments are prohibited, & if discovered, your statements or photos will be removed from G3.
HAVE FUN! >>>>>>>> Click this line to view our Photo Gallery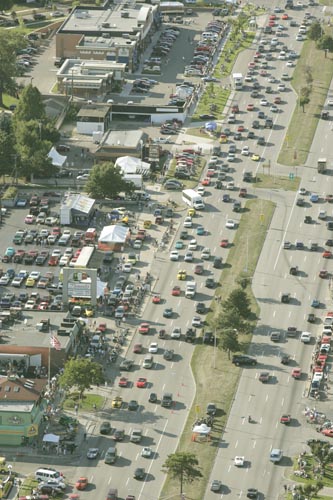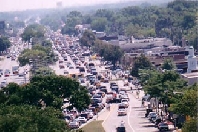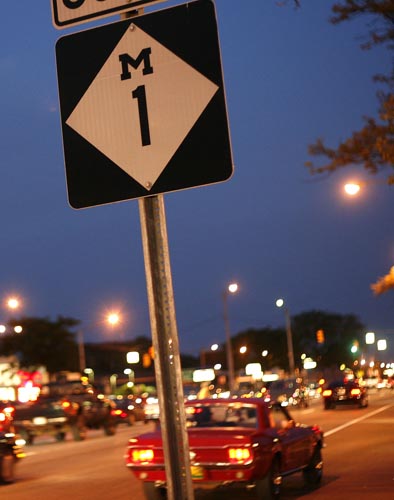 The black & white photo shows what Woodward Avenue and 8 Mile Road looked like in 1965. Site of the 1st reported street race between cars in 1895, the 1st auto factory in the early 1900s, 1st paved concrete road in 1909, 1st highway center lines in 1911, the 1st traffic signal in 1915, 1st urban freeway in 1942, & since 1995, the scene of the Woodward Dream Cruise celebration of all things cool on wheels....the largest car event in the world. The Federal Hwy Administration recently conferred upon Woodward its "All American Road" designation signifying a road that is a destination unto itself & not just a regular highway. Cruisin Woodward is now a major event for thousands of cruisers every summer.....come enjoy the fun.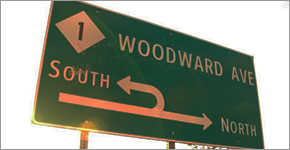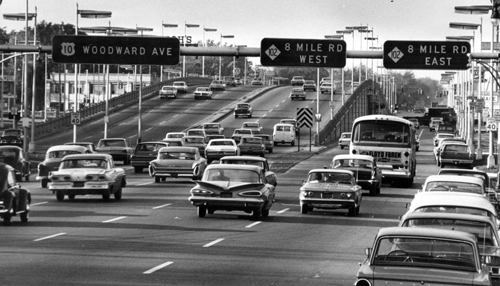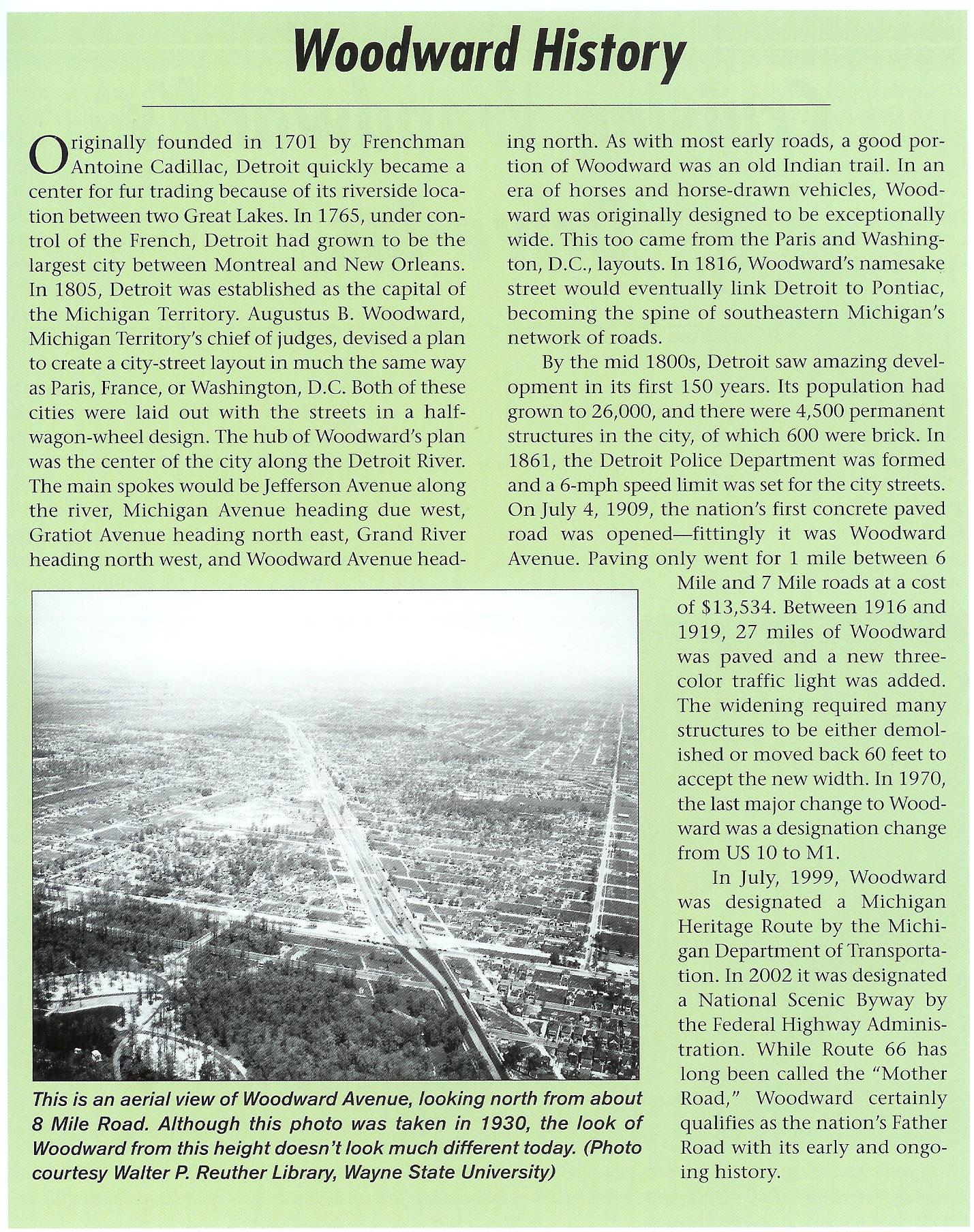 For those of you who did not have the priviledge of growing up in the 1950's ....or the 1960's, please check out these wonderful web sites .... http://oldfortyfives.com/TakeMeBackToTheFifties.htm .
cruzintheavenue.com/TakeMeBackToTheSixties.htm
The below photo shows Ted's drive-in in the mid-1950's on Woodaward Ave at Square Lake. This was a popular cruzin spot at the north end of Woodward Avenue for local hot rodders and today has a newer restaurant at the same location.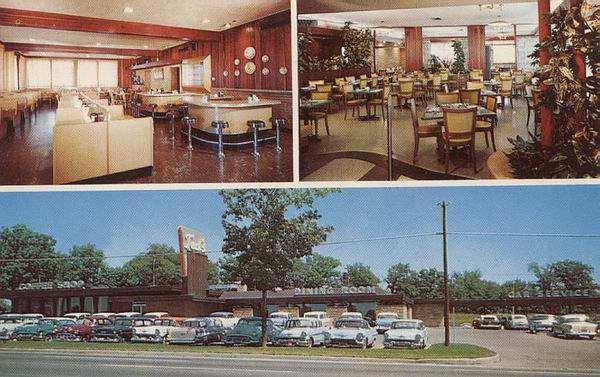 Detroit Channel 7 WXYZ -TV pays tribute to the Brightest & Best HS Seniors
Celebrating the 50th Anniversary of Oakland University in 2007 using Ken & Ginny's 50 year old 1957 Chevy Belair
Robbie Timmons & Carolyn Clifford-------------------------Stephen Clark & Diana Lewis